Picture of the Week: Emily with Pink Socks by Stanley Rosenthal
January 22, 2023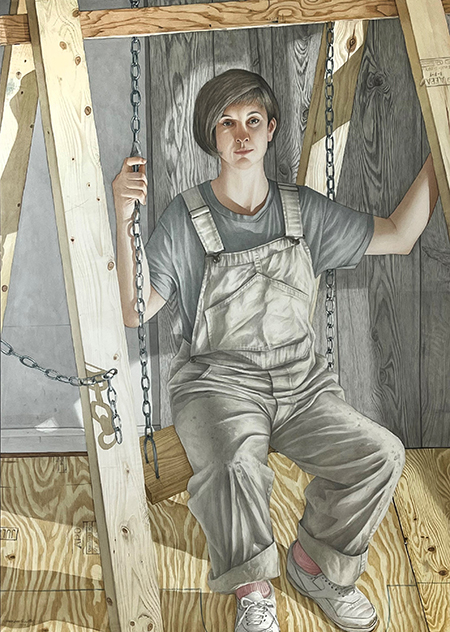 Stanley Rosenthal was a Detroit artist and educator. He earned his BFA from Carnegie Mellon University in Pittsburgh, Pennsylvania and his MFA from Wayne State University. Rosenthal started teaching full-time at Wayne State in 1969 and became a full professor in 2006. He worked at the university for 46 years, not only as a professor, but a graduate officer for the Department of Art and Art History, a member of the Graduate Council, and a member of many college and university committees. His passion for the arts and skills as an educator did not go unnoticed. In 2001, he was honored with the President's Award for Excellence in Teaching from Wayne State. Moreover, in 2013 he received Wayne State's Murray E. Jackson Scholar in the Arts Award, which also led to a retrospective of his work that same year, along with a solo exhibition at WSU's Art Department Gallery in 2014.
Rosenthal earned numerous awards throughout his career. Some of these include winning the top award from Watercolor USA twice, winning the State of the Art National Watercolor Invitational twice, along with several top awards in the Michigan Watercolor Society annual exhibitions. In addition to his artistic achievements, Rosenthal held several notable positions over the course of his career; He served as the President of Michigan Association of Printmakers, an artist and advisor to the Graphic Arts Council at the Detroit Institute of Arts, and as a juror and speaker at many events. Rosenthal passed away in 2015 at the age of 73, but he will forever be remembered as a beloved artist, educator, husband, brother, uncle and friend.
Rosenthal's 1994 watercolor painting Emily with Pink Socks features a woman, presumably Emily, sitting on a wooden swing set. He employs a naturalistic style for this work, which differs greatly from the Minimalist and Conceptualist artwork that was prevalent during the 1990s. To add, Emily's distinct facial features and hairstyle suggest that she was a real person in Rosenthal's life, rather than a generic figure. The scene possesses a muted, neutral palette, primarily using shades of beige and gray. As reinforced by the title, Emily's socks are pink, yet they also possess a muted quality. Despite these subtle color choices, Rosenthal still manages to create a visually rich composition through variations in texture, light, and shadow. He uses slightly darker shades of beige and gray to accentuate the grooves of the wood in the background, on the floor, and throughout the structure of the swingset. These grooves are juxtaposed by the smooth surface of the wall to the far left in the background. His mix of light and shadow creates a subtle sheen on the chains of the swing. To add, Rosenthal utilizes light and shadow to highlight the texture of Emily's T-shirt, overalls, and hair.
His use of light and shadow appear to be the most dramatic on Emily's face.The shadows on her face have an aging effect, creating the illusion of undereye bags and smile lines. This contradicts the youthful aspects of the scene, like Emily's overalls and the swingset. Furthermore, the shadows provide Emily with a melancholy facial expression, along with a somber mood throughout the whole composition. Perhaps Rosenthal intended to harken back to Emily's childhood with this work. This conclusion can be drawn from the juxtaposition of her aging face with her youthful clothing, swing set, and of course her pink socks. Furthermore, this work may convey that as much as Emily may miss her childhood, she is now an adult and cannot go back in time. Nonetheless, she clings to her childhood, just as she clings to the swing set. On the other hand, perhaps her pink socks may suggest hope for the future, that there are still good times to be had in adulthood.
Written by Angela Athnasios
Sources: https://art.wayne.edu/news/memorial-for-art-prof-stanley-rosenthal-to-take-place-jan-15-18246
https://www.artsy.net/article/artsy-editorial-the-most-iconic-artists-of-the-1990s
https://www.irakaufman.com/mobile/detail.php?id=6049