Nancy Pletos: Challenging the Narrative
The most fundamental aspects of art making are the materials that artists use to express themselves. From the beginning of time the desire to make art and its focus has been on its aesthetics. Traditional art practices were passed down from generation to generation, teaching skills and the use of learned skills using traditional art making materials. These traditional materials and mediums were used to tell stories, record history or to celebrate beauty for purely aesthetic or materialistic purposes. Often times traditional artwork, using traditional art materials, was made with beauty as the primary intent. However, in Italy during late 1960's to the 1970's, the radical contemporary art movement "Arte Povera" challenged the traditional concept of art making. Arte Povera artists explored a range of avant-garde processes and non-traditional 'everyday' materials to use in their works. Artists expressed themselves through revolutionary concepts and ideas, channeling this into politics and the social uproars of the time period. Artists could then no longer use the traditional materials to reach the audience and message they were fighting for. Yet instead, they utilized materials and objects that were easily accessible, like rocks, fashion materials, paper, organic forms from the earth, and other cheap materials in order to be symbolic of what they were trying to communicate. These everyday objects were more than just building blocks for sculptural works but symbolized the decay of a culture that no longer existed or was relevant. Much like Arte Povera, the Cass Corridor art movement also emerged during Detroit's time during the 60's and 70's. This counter-culture movement filled with rebellious and innovative artists used objects of daily life that were left behind when masses of Detroit's population made an exodus from the neighborhoods of the Cass Corridor. There are no better examples of artwork created during the 60's & 70's in the Cass Corridor, that reflected the way materials can be transformed from the mundane to the magical. The materials used in the work of Nancy Pletos creates a unique and autobiographical style, while revealing the harsh political and aesthetic climate of the late 1970's and contemporary works that still ring true today.
Nancy Pletos had the unique ability to transform mundane objects into intricate whimsical sculptures that all fit together to compose an artistic vision that seems like no other. The ten works that have been chosen for this exhibition all encompass the same personal-autobiographical feel with the use of mundane objects. Wood, glass, sand, plastic, stones and feathers are the materials used during a time when artists around the world were questioning traditions and pushing the boundaries of artmaking. These materials that Pletos uses were found during a time of action and struggle where she uses to her advantage to create an autobiographical and intense connection that has been transformed into beautiful table-top sculptures. Nancy Pletos' past relationship with form and geometry when she was a math major in college is clearly seen within her works. Creating an aesthetic value of what was considered an ordinary object into something much more complex and detailed with her use of geometric solids, grids, modular formations. In her work Me Boat, the geometry and form create a unified completed work with a personal feminine touch of sequins inside the sculpture itself along with what looks like her signature on the side. These details demand us to stop and admire the hidden treasures in the work of art that reflect on the time in which it was made. During a time period of emergence of women in the arts, radical change between gender roles was evident and Pletos takes this opportunity to create works of art that showcases not only a close connection to herself but to the society of women as well. In Pletos' work Untitled, created with wood, sand, plastic, and wood; she creates what looks like a miniature house. The scale of this sculpture evokes an intimate connection to the past, possibly to a place that Pletos once remembered. In Untitled, c. 1979, the artist utilizes wood, paint, glass and a mirror to construct a very fragile and intimate work. Pletos builds what looks like a miniature keepsake box in the shape of a flower with a mirror on the underside of the top piece. This piece celebrates a feminine side of Nancy along with the feeling of innocence and fragility, like what a child might have had, containing a personal or small object, such as a ring or pair of earrings. Thus, creating a sense of nostalgia from her childhood or memories but also reminds us of the stigma that society holds against women to be fragile and small.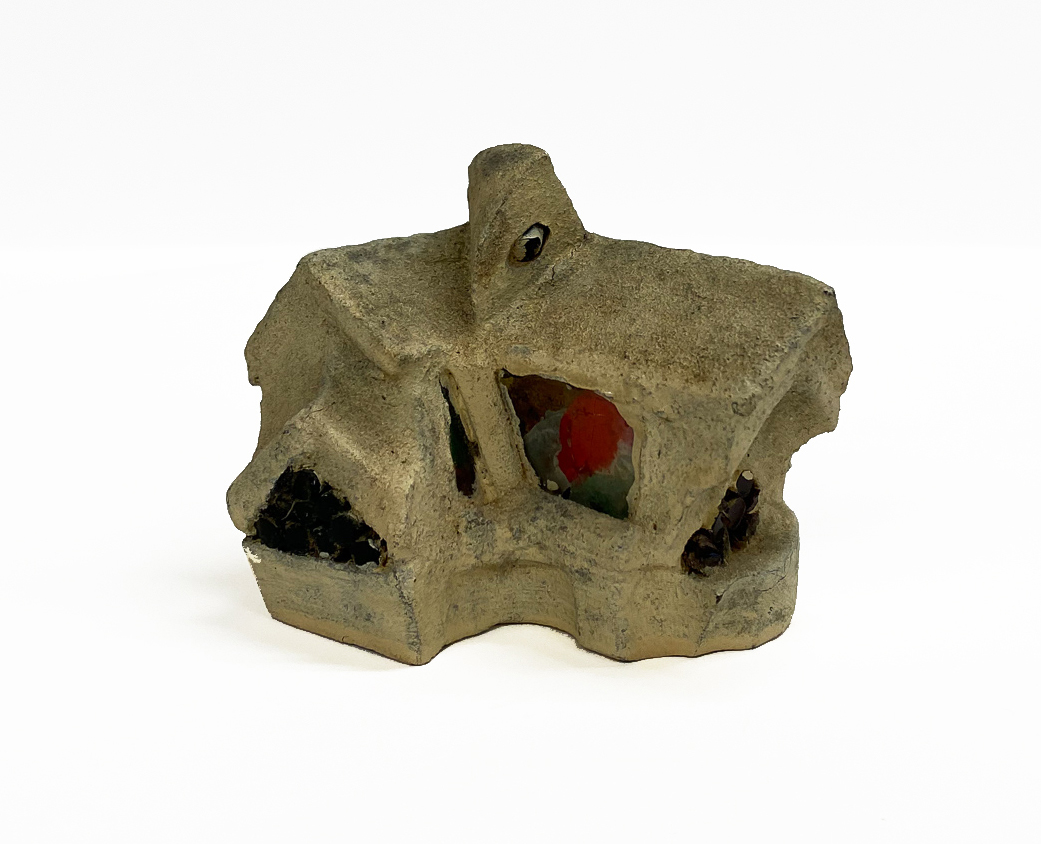 Feminist artists of the time used unconventional materials as well as "traditional women's crafts", like embroidery and textile art, but in a radical and innovative way. Pletos' use of unconventional materials was timely and reflected on the growing interest of radical women at during this time. In the recent past, women were denied the same status of Fine artists as their male counter parts. Their creative expressions were limited to sewing, weaving and quilting, and creating aesthetically pleasing objects for the household. However, in the sixties and seventies, art was no longer merely utilitarian from a women's perspective. Women instead created work that incited their audience to question the social and political climate they were living in. Pletos' sculptural works and materials use reflect on a place and time. They reject the norms of a male dominated art world and celebrate femininity and beauty.
In Nancy Pletos' work Feather House, wood, feathers, metal, stones, and paint are beautifully used to create the appearance of a miniature shelter or home that also acts an interactive music box. This curious work exhibits many intricate delicate details such as a series of nails protruding out of the exterior wall of the work, a bed in the opening of the front, gemstones placed on-top, and feathers which add the feminine charm and elegance. The nails act as a sense of danger and hostility during a period of inequality tension between women and men, but also acting as a musical element, bringing in a fun light- hearted element covering up what the dangers it brings. Feather House, Primary Hearts #4, and Mirror blend the gritty and feminine materials to challenge the concepts of aesthetically feminine art. Feather House uses these organic rough materials with the placed feathers showcasing how femininity can be pushed. In works such as Primary Hearts #4 and Mirror, the materials of wood, sand, and glass in contrast to the beauty and femininity brought out by the brightly colored paints, glass beads, mirrors, and varnish which incorporate new perspectives and challenge what feminine art is. Mirror can also quite literally represent the reflection of past times of hostility and growing up during a male-dominated world. Primary Hearts #4's rough texture and materials juxtapose the bright colors of paint and gemstones delicately placed on top, challenging the concept of feminine art and the traditional aesthetics that are normally perceived.
Pletos' work connects to the contemporary art practices that embrace craft revival and the use of non- precious "fine arts" materials today. The mix between the experimental abstraction and feminist quality in her work brings much inspiration to the scene today, specifically to the younger female generation. The push for women artist recognition has been more evident and stronger than ever before, and Nancy Pletos is a great example that showcases why this push is so important. Contemporary artists from the 70s to now use a variety of representational materials to convey their ideas. They approach and appropriate styles in their own way through the problems of cultural influence and identity politics. The material use exists beyond the physical object itself and instead focuses on the exploration of interpretation and influences each material has on the impact of the formal and conceptual ideas that first gave the artist it's inspiration. Much like Nancy Pletos, Natalie Ball is a more recent artist who creates "power objects" to "occupy, challenge, and disrupt" using similar materials as Pletos does to challenge the idealized female identity.
The use and transformation of common place materials reveal personal, political and art making trends both in the 1970's and today. Nancy Pletos' use of dull yet feminine materials demonstrates yet also contrasts the harsh realities of inequality and turmoil during a dived societal period. While being trans- formative with these materials, the context of her work was much more beautiful and intricate, focusing on the autobiographical details that were included. During the Cass Corridor art movement, artists were making works of large scale that caught attention easily, but Pletos created small, quiet pieces, collecting materials she came upon as if they were meant for her which brings in the autobiographical element in her works. The portrayal of femininity, especially during this time period creates this connection as a woman artists surrounded by male counterparts and society. Challenging the aesthetics of art and social norms much like other contemporary artists, Pletos contests this relationship within her sculptural work through the use of her materials and context while continuing to inspire emerging artists who are also searching and creating for a social change.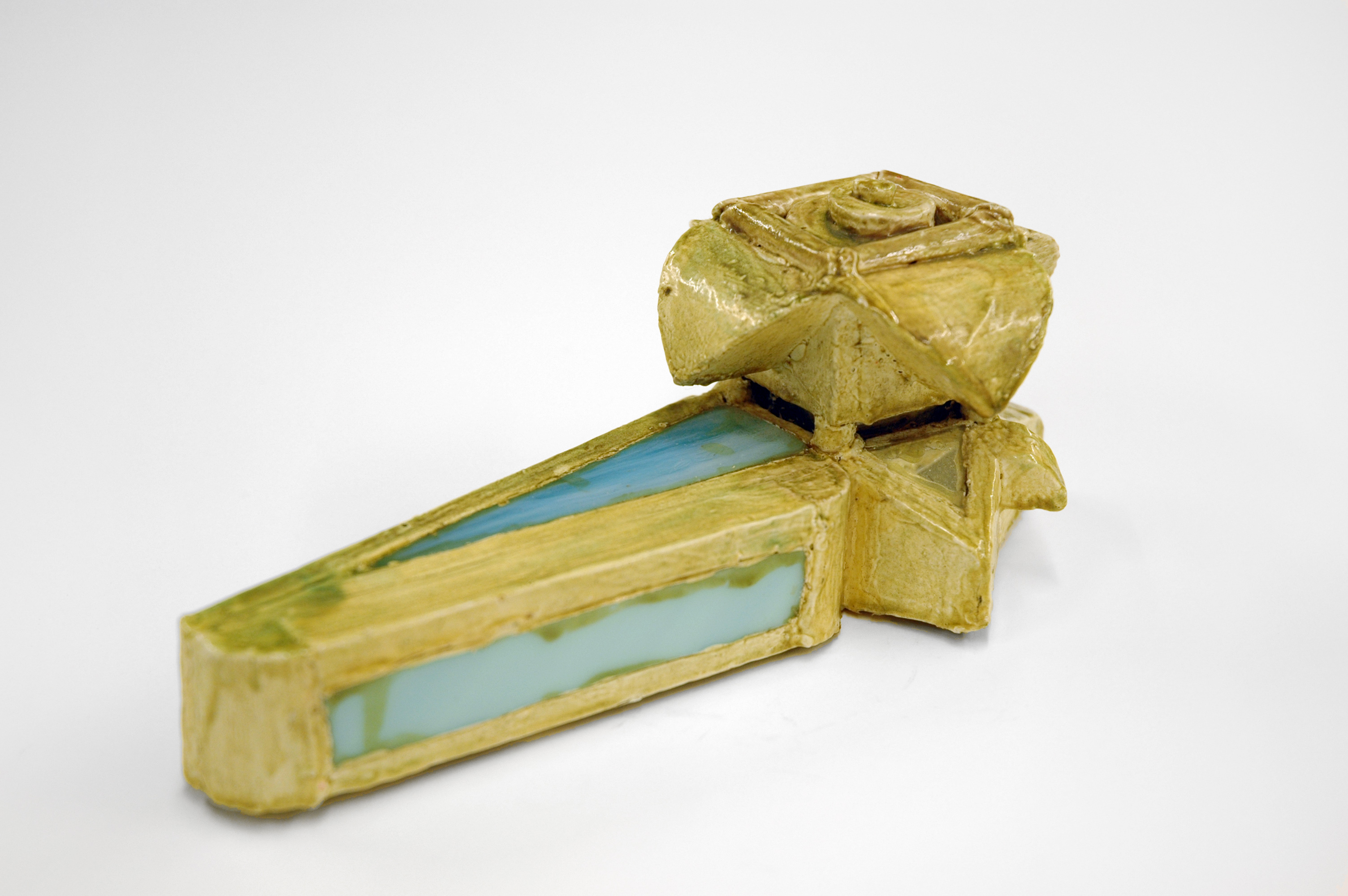 Nancy Pletos began her career at Wayne State University starting off as a mathematics major and not long after switched paths to the art department, receiving her B.A. in 1972. She later returned to Wayne State to receive her M.F.A in 1974 in painting who she studied with John Egner, who also had an impact on the Cass Corridor movement. During that time, she also focused her efforts on making wood sculptures, which is when the start of her career began to make an appearance to the art world using found discarded objects. Through Pletos' unpredictable playfulness decisions along with personal, intimate, and detailed touches; she has left an impact on the Cass Corridor movement and the current generation today.
By Jenna Karam, undergraduate student, 2020. 
Educational Activity: Nancy Pletos: Challenging the Narrative 
---
The University Art Collection provides Wayne State University Art, Art History and Arts Administration students direct experience in research, writing and career development opportunities in collections management through the curation of online exhibitions and the development of educational activities using works from the permanent collection