Exhibitions
Online Exhibitions
Ellen Phelan: Survey of Works from the WSU Collection
After the decline of Detroit starting in the 1960s, the Cass Corridor located in the west side of Midtown near Wayne State University had an intense spike in artistic activity. Although these artists worked, attended art school, and lived side-by-side, they did not share a unified style. Instead, they found their own niches in which to flourish and "cross- fertilize" in collaborative spaces with one another.[1] Collectively, they worked in the rigid shadow of minimalism and all shared "anti-formalist" sentiments that led them to appreciate the exploration of materials and processes.[3] Even though these artists created radical spaces, physically and socially, female voices were not loudly represented. With notions like, "tough guys making tough art" defining such works, it can be clear how women struggled for representation. [1] Urban expressionism and "anti" formalism were forced interpretations of Detroit's Post-Modern style, by this group known as the Cass Corridor artists. This gritty industrial interpretation of contemporary art was not always understood or embraced outside of Detroit. [1] However, years later, a reevaluation of these artists is due.
Ellen Phelan is one of the women artists in the Cass Corridor movement whose career shows continued reflection and adaptation from her student years in Detroit to carving a path that was distinctly her own. Born in 1943, she spent her childhood in Detroit and graduated from Wayne State with a Bachelor of Fine Arts in 1969, and a Master of Fine Arts in 1971. She followed opportunity and moved to NYC in 1973, drastically changing her career to not be bound by the limits of a predominantly masculine art scene in Detroit. At odds with prevailing trends and known for her stubbornly honest work, Ellen Phelan has pushed the boundaries of contemporary painting for over 50 years, and advanced her career from that of a renowned Detroit artist into one of an artist with a global reputation and successful career. [4]
---
Becoming: Illuminating Experiences
The struggles and triumphs of "becoming" as a queer, neurodivergent, inter-sectionally marginalized person can be found in the spaces where they have not been represented or included. They are not seen in the open but can be found in the cracks and the spaces that are in between. The beauty and richness that comes from creating community with other people who find themselves in these negative spaces can be found and explored in art. We can use art as a type of looking glass into other people's experiences, and can find clues in the works that help us see what is already visible to people who have been living in those "othered" spaces.
"Becoming" is an exhibition that attempts to bring attention to these spaces and by shedding light on them they are illuminated, not just as void negative spaces, but as spaces that are full of diversity and rich cultures that are worthy of celebration. In doing so, we rewrite the script of the world we've been given to be embracing of differences, and give the next generation a world stronger and better than the one that has been handed to us.
---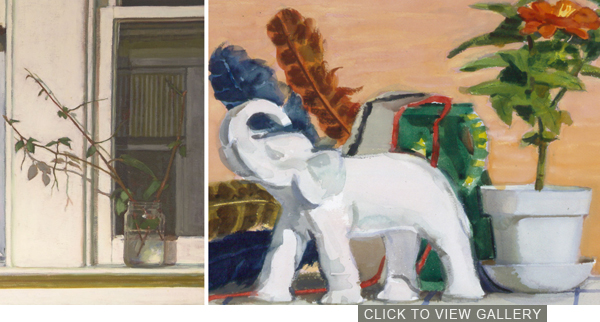 Making of the Mundane
The mundane refers to the often overlooked, insignificant objects and scenes that exist in daily life. These objects originate from the earthly world as opposed to the heavenly or spiritual, and yet when artists focus their attention to everyday objects and depict them with the same intention of art, the mundane transcends its original purpose. The rendering of the mundane provides the opportunity for an artist to recreate their surroundings down to minute details and to test the boundaries of representational depiction and their own creativity (McKinnon). Robert J. Wilbert (1929 2016), an artist and professor in the art department at Wayne State University, explored the depiction of objects, which when regarded individually may be thought of as ordinary or insignificant. However, Wilbert's use of color and composition creates a depiction that transcends the traditional still life. Wilbert's fascination with the essence of objects is not only obvious in his own work, but also seen in his influence on students such as Michael Mahoney, Ellen Phelan, Nancy Mitchnick, Kathleen Rashid, and Lila Kadaj.
---
Constructing Identity
The mind of an artist is sublimely intriguing. They can portray what they see and think through their art. Viewers are then able to examine and experience important issues such as race, gender, religion, and politics, through the artist's work. There is a natural connection that each artist makes between making the art, the use of their material, and formulating an identity. When making art, artists have explored a variety of different mediums, techniques, as well as research to accomplish what they are trying to express. Establishing self-identity is an  important part of art-making. Constructing a collage is similar to formulating an identity, in  which there is also a process of selecting, arranging, and organizing given material to represent an idea. Click here to read more.
---
Nancy Pletos: Challenging the Narrative
Nancy Pletos had the unique ability to transform mundane objects into intricate whimsical sculptures that all fit together to compose an artistic vision that seems like no other. The ten works that have been chosen for this exhibition all encompass the same personal-autobiographical feel with the use of mundane objects. Wood, glass, sand, plastic, stones and feathers are the materials used during a time when artists around the world were questioning traditions and pushing the boundaries of artmaking. Click here to read more.
---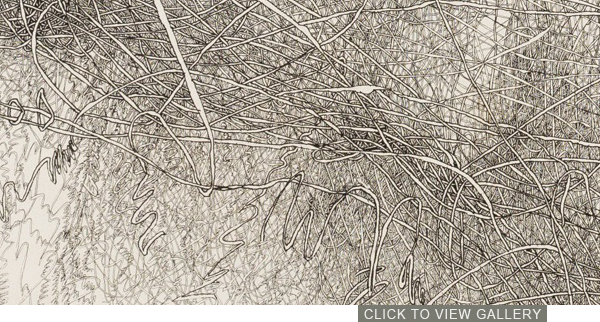 The Fine Lines of Identity: Susan Hauptman's Early Works
As an artist it seems that questions often circulate regarding how much of themselves is present in their work. In many instances, it becomes difficult to decide whether the artist is able to choose exactly how much of themselves is shared with the viewer, or if self-revelation is an inevitability despite even the best attempts to keep personal connections concealed. The work of Susan Hauptman exists contentedly somewhere between these two extremes, both revealing every wrinkle and mole of her physical self by way of her meticulous self-portraits, while also including personal metaphors where the meaning for anyone else might be up to some debate. The tangible and intangible in Susan's work are given equal room, yet Hauptman was seemingly untroubled by the contradiction of the clarity of her craftsmanship and the perhaps less obvious quality of its symbolism and "meaning" for the viewer. In fact, Hauptman's early drawings which prefaced her later acclaimed self-portraits appear to revel in loose ends, literallythat which cannot be neatly rectified regardless of how clearly the artist draws it; be that the components of identity, gender, memory, or relationships. Hauptman presents us with no definitive answers, no neat portrait of her holistic self, and therefore expands all possibilities, wading into the potentiality of taking up and exploring space. Click here to read more.
---

Considered to be one of Detroit's most prolific and reclusive artists, Gordon Newton has never faltered in conveying the raw depth of his emotions or the story of his environment through painting, drawing, sculpting, or reconstructing. Newton's contributions to the art world help to define the style of the Cass Corridor movement as well as place it within the larger context of the history of avant-garde art in Detroit and beyond. Newton's work of the past several decades has been described as "dense" and "all-consuming," which can also be applied to the method in which he works. By exhausting ideas and themes and using different approaches to artistic invention over the course of his career, Newton has never failed to generate projects comprised of intricately layered meaning.  This online exhibition focuses on Newton's decades-long series of daily mailings to his friend and most ardent collector, James Pearson Duffy. Click here to read more. 
---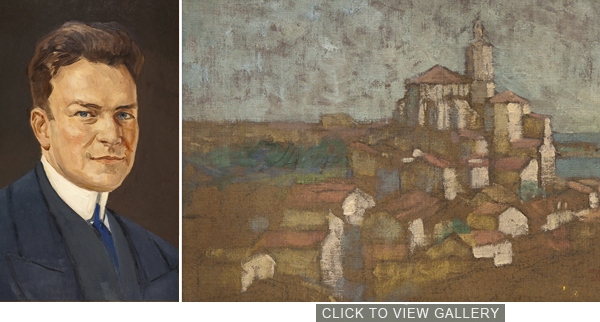 Roy Charles Gamble was an American impressionist painter, muralist and portraitist with Detroit roots. As a young painter Gamble's studies and travels branched from Detroit to New York to Paris and back. A combination of curiosity and happenstance took Gamble on a path directly through the epicenters of painting evolution in the early 20th century. Gamble was nourished with a unique blend of American Impressionism, Classicism, French Post-Impressionist, Social Realism and Ashcan School ideologies. The perfect storm of influence combined with Gamble's mid-western breeding developed an original artistic eye and laid the groundwork for a lifetime of skillful painting. Click here to read more.
---
Since its rise to prominence in the 1970's, Installation art has been a medium which encourages the use of non-traditional materials, forms of presentation, and processes of creation. Judy Pfaff (b. 1946), an artist who is most noted for such work, employs all of these approaches in her installations which span multiple media including drawing, sculpture and painting. Pfaff has received numerous awards, including a John D. and Catherine T. MacArthur Foundation Award (2004), fellowships from the John Simon Guggenheim Memorial Foundation(1983) and the National Endowment for the Arts (1986).

Pfaff's life has been active and migrantshe lived in three countries, and attended four institutions, each in different states, before obtaining her first degree. Born in London shortly after the end of World War II, Pfaff relocated to Detroit with her mother when she was thirteen. While growing up in Detroit, she found herself struggling with subjects like math and science, but excelled in art and humanities. Pfaff enrolled in Cass Technical High School in Detroita school known for its vital arts program. In 1965, Pfaff attended Wayne State University, where she studied for a few semesters. Though Pfaff never received a degree from Wayne State University, she sites her experiences at the institution and the instructors she met there as being important to the formation and development of her work. Three years later, the artist moved to Illinois and began attending Southern Illinois University. Like Wayne State, Pfaff only attended this institution for a few semesters before moving to Lund, Sweden, where she worked on a farm for a year. Upon her return to the United States, Pfaff attended the Norfolk Summer School of Music and Art, and finally Washington University in St. Louis where she received her BFA in 1971. In Norfolk, Pfaff began assisting head of the summer programRobert Reed, a noted abstract painter who later helped her get into Yale's prestigious MFA program. While at Yale, Pfaff studied under the abstract expressionist painter, Al Held, receiving her MFA in 1973. Click here to read more.
---

Many are aware of the enormous contributions Arthur C. Danto has made to contemporary art. His pivotal works such asThe Transfiguration of the Commonplace (1981) and After the End of Art (1997) revolutionized the field of Philosophical Aesthetics.  Few, however, know Danto as a successful artista decade-long career that preceded his tenure as one of the most highly regarded philosophers and art critics of our time. Through Danto's 2010 gift of all his prints and original woodblocks to the Wayne State University Art Collection, recognition of his art making is being revived.
Arthur C. Danto grew up in Detroit and in 1948 received his B.A. in Fine Arts from Wayne University (now Wayne State University) and his M.A (1949) and Ph.D. (1952) from Columbia University. He began exhibiting his art in national exhibitions in the early 1950's. During this decade Danto's woodcuts were exhibited at the Art Institute of Chicago, the Detroit Institute of Arts, Los Angeles County Museum, The Museum of Fine Arts, Boston, and at the National Gallery of Art in Washington D.C.  Following a successful solo exhibition at NYC's Associated American Artists gallery in 1960, Danto gave up making art and turned his interests exclusively to philosophy and art criticism.  His essay 'Stopping Making Art' speaks to this pivotal moment in his life.
This online exhibition has been supported through a Wayne State University Research Enhancement Program Arts and Humanities grant.  Through this valued support and the artist's generous permission, students of WSU's Printmaking program created two special editions of Arthur C. Danto woodcut prints from the artist's original woodblocks.  These prints are available for purchase to benefit the newly established Arthur C. Danto Scholarship providing support to students in the James Pearson Duffy Department of Art & Art History.
---
Below are exhibitions at Wayne State and around the country featuring work from the University Art Collection. To see our past exhibition, check out our Exhibition Archive.
Current Exhibitions

Robert Sestok, Rock and Roll, 1978-79, Gift of James Pearson Duffy, 1992, Wayne State University Art Collection
Rock and Roll by Robert Sestok
Long-term installation
COBO Center, Detroit, MI
Originally installed in the Duffy & Company warehouse, James Pearson Duffy's pipe warehouse cum Cass Corridor art museum, this singular work by Robert Sestok which combines his interests in painting, sculpture, line and form has been missing one major component since it was donated to WSU in 1992 - its colorful florescent lights, which helped give meaning to its title Rock and Roll.

The work has now been re-illuminated with LED lighting and vibrantly hangs at COBO Center on long-term loan.  The restoration work was funded by Detroit Regional Convention Facility Authority/COBO Center.  The effort was spearheaded by the collection and Maureen Devine, curator of art for COBO.
------------------------------
Cass Corridor Culture: In and Around Wayne State, 1960s - 1980s
David Adamany Undergraduate Library, Third Floor
Gullen Mall, Detroit
This permanent exhibition highlights the work of artists, poets and musicians, many of whom lived and worked in 'the Corridor' during those years.  The counterculture of the 1960s and `70s had its roots on college and university campuses, including WSU, where artists, musicians, poets and writers developed a strong and vibrant creative community.  This display features some of the most iconic art created by artists of the Cass Corridor, including works by Jim Chatelain, John Egner, Brenda Goodman, Bradley Jones, Ann Mikolowski, Gordon Newton and The Alternative Press.
Click for more images and essay 'Art and the Industrial City,' by Dr. Dora Apel.
---
Find out about the current, or upcoming exhibitions at Wayne State's Elaine L. Jacob Gallery and Art Department Gallery.