Exhibitions
Below are exhibitions at Wayne State and around the country featuring work from the University Art Collection. To see our past exhibition, check out our Exhibition Archive.
Current Exhibitions

Robert Sestok, Rock and Roll, 1978-79, Gift of James Pearson Duffy, 1992, Wayne State University Art Collection
Rock and Roll by Robert Sestok
Long-term installation
COBO Center, Detroit, MI
Originally installed in the Duffy & Company warehouse, James Pearson Duffy's pipe warehouse cum Cass Corridor art museum, this singular work by Robert Sestok which combines his interests in painting, sculpture, line and form has been missing one major component since it was donated to WSU in 1992 - its colorful florescent lights, which helped give meaning to its title Rock and Roll.

The work has now been re-illuminated with LED lighting and vibrantly hangs at COBO Center on long-term loan.  The restoration work was funded by Detroit Regional Convention Facility Authority/COBO Center.  The effort was spearheaded by the collection and Maureen Devine, curator of art for COBO.
------------------------------
Cass Corridor Culture: In and Around Wayne State, 1960s - 1980s
David Adamany Undergraduate Library, Third Floor
Gullen Mall, Detroit
This permanent exhibition highlights the work of artists, poets and musicians, many of whom lived and worked in 'the Corridor' during those years.  The counterculture of the 1960s and `70s had its roots on college and university campuses, including WSU, where artists, musicians, poets and writers developed a strong and vibrant creative community.  This display features some of the most iconic art created by artists of the Cass Corridor, including works by Jim Chatelain, John Egner, Brenda Goodman, Bradley Jones, Ann Mikolowski, Gordon Newton and The Alternative Press.
Click for more images and essay 'Art and the Industrial City,' by Dr. Dora Apel.
---
Online Exhibitions

Considered to be one of Detroit's most prolific and reclusive artists, Gordon Newton has never faltered in conveying the raw depth of his emotions or the story of his environment through painting, drawing, sculpting, or reconstructing. Newton's contributions to the art world help to define the style of the Cass Corridor movement as well as place it within the larger context of the history of avant-garde art in Detroit and beyond. Newton's work of the past several decades has been described as "dense" and "all-consuming," which can also be applied to the method in which he works. By exhausting ideas and themes and using different approaches to artistic invention over the course of his career, Newton has never failed to generate projects comprised of intricately layered meaning.  This online exhibition focuses on Newton's decades-long series of daily mailings to his friend and most ardent collector, James Pearson Duffy. Click here to read more. 
------------------------------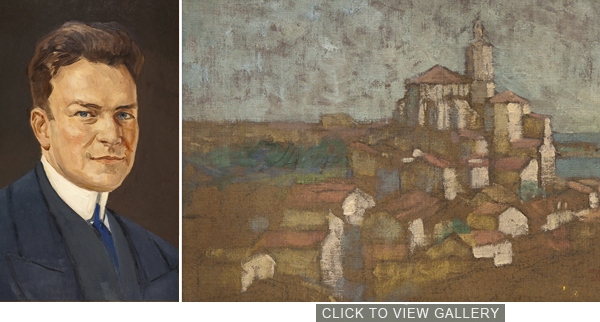 Roy Charles Gamble was an American impressionist painter, muralist and portraitist with Detroit roots. As a young painter Gamble's studies and travels branched from Detroit to New York to Paris and back. A combination of curiosity and happenstance took Gamble on a path directly through the epicenters of painting evolution in the early 20th century. Gamble was nourished with a unique blend of American Impressionism, Classicism, French Post-Impressionist, Social Realism and Ashcan School ideologies. The perfect storm of influence combined with Gamble's mid-western breeding developed an original artistic eye and laid the groundwork for a lifetime of skillful painting. Click here to read more.
------------------------------
Since its rise to prominence in the 1970's, Installation art has been a medium which encourages the use of non-traditional materials, forms of presentation, and processes of creation. Judy Pfaff (b. 1946), an artist who is most noted for such work, employs all of these approaches in her installations which span multiple media including drawing, sculpture and painting. Pfaff has received numerous awards, including a John D. and Catherine T. MacArthur Foundation Award (2004), fellowships from the John Simon Guggenheim Memorial Foundation(1983) and the National Endowment for the Arts (1986).

Pfaff's life has been active and migrant—she lived in three countries, and attended four institutions, each in different states, before obtaining her first degree. Born in London shortly after the end of World War II, Pfaff relocated to Detroit with her mother when she was thirteen. While growing up in Detroit, she found herself struggling with subjects like math and science, but excelled in art and humanities. Pfaff enrolled in Cass Technical High School in Detroit—a school known for its vital arts program. In 1965, Pfaff attended Wayne State University, where she studied for a few semesters. Though Pfaff never received a degree from Wayne State University, she sites her experiences at the institution and the instructors she met there as being important to the formation and development of her work. Three years later, the artist moved to Illinois and began attending Southern Illinois University. Like Wayne State, Pfaff only attended this institution for a few semesters before moving to Lund, Sweden, where she worked on a farm for a year. Upon her return to the United States, Pfaff attended the Norfolk Summer School of Music and Art, and finally Washington University in St. Louis where she received her BFA in 1971. In Norfolk, Pfaff began assisting head of the summer program—Robert Reed, a noted abstract painter who later helped her get into Yale's prestigious MFA program. While at Yale, Pfaff studied under the abstract expressionist painter, Al Held, receiving her MFA in 1973. Click here to read more
------------------------------

Many are aware of the enormous contributions Arthur C. Danto has made to contemporary art. His pivotal works such asThe Transfiguration of the Commonplace (1981) and After the End of Art (1997) revolutionized the field of Philosophical Aesthetics.  Few, however, know Danto as a successful artist—a decade-long career that preceded his tenure as one of the most highly regarded philosophers and art critics of our time. Through Danto's 2010 gift of all his prints and original woodblocks to the Wayne State University Art Collection, recognition of his art making is being revived.
Arthur C. Danto grew up in Detroit and in 1948 received his B.A. in Fine Arts from Wayne University (now Wayne State University) and his M.A (1949) and Ph.D. (1952) from Columbia University. He began exhibiting his art in national exhibitions in the early 1950's. During this decade Danto's woodcuts were exhibited at the Art Institute of Chicago, the Detroit Institute of Arts, Los Angeles County Museum, The Museum of Fine Arts, Boston, and at the National Gallery of Art in Washington D.C.  Following a successful solo exhibition at NYC's Associated American Artists gallery in 1960, Danto gave up making art and turned his interests exclusively to philosophy and art criticism.  His essay 'Stopping Making Art' speaks to this pivotal moment in his life.
This online exhibition has been supported through a Wayne State University Research Enhancement Program Arts and Humanities grant.  Through this valued support and the artist's generous permission, students of WSU's Printmaking program created two special editions of Arthur C. Danto woodcut prints from the artist's original woodblocks.  These prints are available for purchase to benefit the newly established Arthur C. Danto Scholarship providing support to students in the James Pearson Duffy Department of Art & Art History.
------------------------------

Kathe Kollwitz, The Mothers (war series), 1923
GERMAN EXPRESSIONISM
Online Exhibitions feature selected gifts and new highlights from the University Art Collection. Our latest online exhibition showcases stunning German Expressionist works by Kathe Kollwitz, Erich Heckel, Otto Mueller, and more. 
------------------------------

Mary Ann Aitken, Flowers 1 - 3, c. 1983 
RECENT ADDITIONS
Online Exhibitions feature selected gifts and new highlights from the University Art Collection. Currently on display are works from John Sloan, an important figure in early 20th Century painting, and Peter Williams, one of Wayne State's celebrated painting instructors.  View the Recent Additions gallery now.
---
Find out about the current, or upcoming exhibitions at Wayne State's Elaine L. Jacob Gallery and Art Department Gallery.