Roy C. Gamble: Detroit Muralist & Portraitist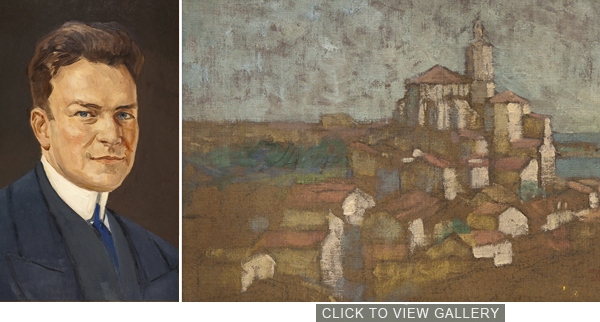 Written by Audrey Zofchak
Roy Charles Gamble was an American impressionist painter, muralist and portraitist with Detroit roots. As a young painter Gamble's studies and travels branched from Detroit to New York to Paris and back. A combination of curiosity and happenstance took Gamble on a path directly through the epicenters of painting evolution in the early 20th century. Gamble was nourished with a unique blend of American Impressionism, Classicism, French Post-Impressionist, Social Realism and Ashcan School ideologies. The perfect storm of influence combined with Gamble's mid-western breeding developed an original artistic eye and laid the groundwork for a lifetime of skillful painting.
Roy C. Gamble was born on July 12, 1887 in Detroit, MI and grew up the eldest of four brothers and one sister.[1] Roy's mother, Lena Gamble, immigrated from Canada and was of German descent.[2]  His father, George Gamble, immigrated from  England and was of Irish descent.[3] [4] When Roy was a boy his father worked as a brick mason and the family resided at 1262 14th Street, Detroit, Michigan.[5]
The city Gamble knew as a boy was in flux. As Detroit charged toward the 20th century residential and industrial plots were being carved out of farmland. Industrial smoke rose up over a city criss-crossed with rails and lined with rows of housing. Detroit's population was rapidly expanding.[6] Soon the auto industry would attract workers in pursuit of the American Dream including immigrants from Europe and the Great Migration of both white and African American workers from the south.[7] This inpouring would set off a race to build public infrastructure and businesses at an astounding rate. With construction underway Detroit was actively on the way to earning the nickname, "Paris of the Midwest."
In 1902 Gamble graduated the 8th grade at Estabrook School with a small class
Detroit Central High, 1890  (located in what is now Wayne State University's historic Old Main building.) Watercolor by Emil Lorch
of 18 students.[8]  Roy attended Detroit's Central High School from 1902 to1906.[9] There he ran track and was the art editor for the school newspaper, The Student.[10]  Gamble became acquainted with another student, Harry Howard, and the two formed the publication, The Inter-School Review.[11] Gamble credited his high school publishing experiences to his original interest in a career in advertising. Upon graduating he built a portfolio and went into business for himself.[12]  He also set out to further his studies at the Detroit Fine Arts Academy.[13]
The Detroit Fine Arts Academy began as the Detroit Museum School and opened in 1890 in the Trowbridge building on Witherall Street.[14]  In 1895 the school was renamed the Detroit Fine Arts Academy and in the summer of Gamble's high school graduation, 1906, the school was relocated to West Grand Circus Park.[15] There, Gamble studied under noteworthy Michigan artists including the schools co-founder, Joseph Gies and co-director, John P. Wicker.[16] Both Gies and Wicker were highly acclaimed regional artists who had spent time studying in Paris.[17]
Gamble was also an active member of the Hopkin Club, a Detroit social club which formed in 1907.[18] The club consisted of a group of artists that rented a floor above a cigar factory on Gratiot Avenue. There men would meet on Saturday nights to discuss art, drink, eat and on occasion sketch.[19] The club eventually relocated to 12 Witherell Street above Bowman's Saloon and by 1913 took on a new name, The Scarab Club.[20] The newly formed club had a long list of noteworthy members including Clyde Burroughs, Albert Kahn, Edsel Ford, Henry T. Ewald and George Gough Booth and would attract calls from diverse and internationally known painters including Diego Rivera, Marcel Duchamp and Norman Rockwell.[21]
It didn't take long for Gamble to land a job as the head of the advertising department with the O.J. Mulford Advertising Company but the young artist decided to further his education.[22]  Mulford helped Gamble study at the Art Students League in New York where the young artist spent roughly six months.[23] Gamble primarily studied under acclaimed artist William Merritt Chase but also under Robert Henri and Louis Morra.[24]
The Art Students League is associated with the Ashcan School of Art, a movement known for its depiction of the streets and activities of New York. The movement rebelled against both American Impressionism and Academic Realism.[25] Robert Henri and William Merritt Chase were two of the most influential artists and teachers in the history of American art. While Robert Henri is thought to be the "father" of the Ashcan School, his senior colleague, William Merritt Chase, was a Realist-Naturalist with Classicist tendencies, and their interests and teaching styles became increasingly divergent.[26]
Gamble was running low on funds in New York when a Detroit peer, Art Marchener, wrote him to remind him of a previously agreed upon plan to travel to Europe. Gamble packed his bags but Marchener bailed out at the very last minute leaving Gamble on a ship to Paris by himself.[27] Gamble was twenty-one.
In France Gamble wound up in Paris and was directed to the Left Bank where the Post-Impressionist movement was underway led by Henri Matisse and Pablo Picasso. However Gamble primarily associated with other American painters including William Merritt Chase, Theodore Robinson, Robert Weir, John H. Twatchman and Childe Hassam.[28] The young Gamble rubbed shoulders with legendary members of the Parisian avant-garde scene including brother/sister duo Leo and Gertrude Stein.[29]
The Wayne State University Art Collection holds two Gamble paintings depicting the Seine River front.[30] The well established Impressionist movement in Europe had a clear influence on Gamble's work. Here he paints the scene broadly, sure-footed strokes give form and thoughtful value provides a sense of space. (Photo Credit: Daniel Sperry)
(Photo Credit: Daniel Sperry)
In 1910 and 1911 Gamble's work was exhibited at the Paris Salon.[31] Gamble also attended the Julian School and studied under Jean Paul Laurens, one of the hold outs of the French Academic style.[32]  Gamble also briefly studied at the Académie de la Grande Chaumière, a less expensive school that merely provided a model.[33]  He spent his days sketching in the Louvre and eventually traveled with another American student, Dick Black. The pair took a painting trip through Holland, Belgium and Germany ending up at St. Maries de la Mer in the south of France.[34]  Of this time Gamble recollected, "I found myself in a painting way." [35]
Gamble eventually returned to Detroit. In 1911 he entered an exhibit of Michigan artists in the Detroit Museum of Art (the forefather of the Detroit Institute of Art; the name would change in 1919.) [36] The Detroit Free Press praised his work describing Gamble as "making the Fairest of Promise" adding "His work is free and strong, his technique pretty sure and his style assured and original." [37]
By 1914 Gamble began taking on work as a portraitist. He was soon commissioned by Detroit Free Press owner E.D. Stair to paint five murals for the Detroit Free Press Building. Each mural depicted a separate scene illustrating Detroit's history including 'The Landing of Cadillac', 'Bartering with Indians', 'Pontiac's Conspiracy', 'Conquering the Forest', and 'Modern Industry'.[38]  A sixth panel, a portrait of Benjamin Franklin, utilized artist Joseph Siffred Duplessis' painting as a reference.[39] Gamble traveled to Walpole Island, Ontario to find models for the Native Americans depicted.[40] The murals, painted  in broad brushstrokes with an unabashed pallette illustrate Detroit's founding with great revere. The skillfully placed figures are washed in golden light. Cool waters and blue sky draw the viewer's eye beyond the figures and deep into the natural frontier. Stair so loved the finish murals that when the paper relocated in 1924 he requested architect Albert Kahn design a special room to display the work.[41]
(Photo Credit:Daniel Sperry

)
The Wayne State University Art Collection holds a small study of Gamble's 'The Landing of Cadillac.' The composition was transposed in the final work and the mens' uniforms altered from red and gold to a more pacifying blue. (Photo Credit: Daniel Sperry)
(Photo Credit: Helen Jane Peters

)
By age twenty-seven Gamble had a strong studio practice and was receiving local acclaim for his murals. In 1914 Detroit Free Press art critic, Sheridan Ford, visited Gamble in his studio on Fort Street and wrote of Gamble:
"I went to Gamble's studio to criticize and stayed to praise. The man can paint.  He's a Good Workman – a thing to say in an era when thousands of hopeless mediocrities are marring hopeless canvas when they ought to be pitching coal on the docks." [42]
In the fall of 1917 Gamble traveled to France yet again, this time in service to a hospital unit during WWI. There he worked to serve wounded Italian, French, British and American soldiers. A letter he wrote to his mother was published in the Detroit Free Press in 1918 describing shellings and his hopefullness that the tide was turning in the Allies favor over the Germans.[43] The Central High School June class of 1918 and the alumni association requested Gamble paint a mural to commemorate the fallen classmates of Central High.
The Central High School WWI memorial mural was installed in 1921 and relocated with Central High School from Cass Ave. to Tuxedo St. in 1926. (Photo credit: Audrey Zofchak)
When Gamble returned to the states commission portraits provided a solid income and he built a reputation as a premiere portrait artist. He was also praised for his ability to depict the spirited nature of children.[44]  In 1920 Gamble received the Scarab Club Gold Medal for "Freckles," a portrait of Tommy Atkins, a local boy.[45] Sheridan Ford believed Gamble would become one of" America's great painters" and shortly before his death in 1922 Ford sold many of Gamble's paintings to various "rich men" in Detroit and New York.[46] [47]
In 1923 Gamble and his brother, Marshall, outfitted an old Ford into a camper and headed on a painting trip to paint the docks and beaches of Maine and Connecticut.[48] Along the way they spent time in Woodstock, New York where Gamble fraternized with American painters Leon Kroll, Eugene Speicher, John F. Carlson and George Bellows.[49]
Gamble returned to Michigan and completed a series of fresco murals in 1924 at a Newsboys' camp sponsored by the Detroit Free Press.[50]  The same year he returned to France and stayed for a year and a half including a trip through Arles where he literally followed in Van Gogh's footsteps. Gamble believed he unknowingly stayed in the very same room depicted in Van Gogh's "Vincent's Bedroom in Arles," a realization he made years later upon viewing the painting.[51]
A one man show of Gamble's work was held at the Bonstelle Theatre in1926 in Detroit, MI and the following year Gamble was awarded the Founder's Prize from the Detroit Institute of Arts for his "Portrait of Dorothy Backus."[52][53] He continued to work as a portrait artist in Detroit managing to earn a living through the great depression.
In the 1930's Michigan became a destination for muralists. Most notably, Mexican muralist Diego Rivera traveled to Detroit in 1932 to complete his 'Detroit Murals' commissioned by Edsel Ford. New Deal artists such as Charles Pollock, William Gropper and Edgar Louis Yaeger were also working in the area.[54] However, Gamble continued to work as a self-supporting portraitist rather than labor for the Works Progress Administration or within the acclaimed Social Realist style of the decade.
Gamble's decision to concentrate on portraiture and the figure resulted in ever-increasing skill in his brushwork and an acute eye for the subtlety of character within his subjects. He continued to be a prolific painter. His work was exhibited nationally at the Pennsylvania Academy of Fine Arts in Philadelphia, the Colony Club in New York, the Davis Gallery in New York and at the Corcoran in Washington, D.C.[55] He worked out of a high-ceiling studio on 14th street behind the home where he was born. Racks against the wall held stacks of paintings documenting old Detroit and Gamble's travels to the east coast, Paris, Arles and Germany.[56] In Gamble's studio, cast in natural northern light, sat some of the most distinguished men and women of Michigan.[57] Over his fifty year career Gamble painted a very long list of noteworthy figures and civic leaders including Detroit Tigers legend Ty Cobb and Detroit Mayor Albert E. Cobo.
 
The Wayne State University Art Collection includes small studies, roughly 15" tall ,that reveal the portraitist's process. Here Gamble studied possible poses of Michigan Governor Wilbur Brucker. Each version imparting a slightly different temperament on the subject. Studies also gave Gamble an opportunity to rehearse brushwork; strokes that would be amplified in the full scale work. (Photo credit: Daniel Sperry)
In 1929, Gamble explained:

 

          "Portrait Painting is first of all a study in human nature. The better [you] know the sitter, the better chance you have of discovering something about him that will make the picture worthwhile. As the painter and the subject get better acquainted, there is a natural tendency on the latter's part to thaw out… instead of the self-consciousness that brings out the worst in the sitter, or at least effectually conceals his good points. I find that eventually he forgets himself and responds to my efforts to bring out the best side of his nature, which is reflected in his expression" [58]

    
 
 
 
 
Gamble passed away on March 30, 1972 in Detroit, MI at age 83. He was buried at White Chapel Cemetery in Troy, Michigan.[59]
Where to find Roy C. Gamble's work:
Many of Gamble's paintings are cherished by private collectors. Strong efforts have been made to conserve Gamble's work for the public. His paintings are held in the collections of many institutions including the Detroit Historical Society, The Butler Museum of American Art, the Pennsylvania Academy of Fine Arts and Colby College.
The Wayne State University Art Collection holds twenty-two works by Gamble including landscapes, a study for 'The Landing of Cadillac'  Free Press mural and portraits of Wayne State President David Dodds Henry, educator David Mackenzie, philanthropist Tracy McGregor, artist George S. Hodge and studies of Michigan Governors among others.
The Detroit Athletic Club possesses four of the five Detroit Free Press murals. The murals were saved from the Detroit Free Press building 74 years after installation when the newspaper office was vacated. 'Modern Industry' has been fully restored and is displayed proudly in the new court at the DAC.[60]
Central Collegiate Academy (formerly Central High School) continues to display the Central High School WWI memorial mural on the west wall of the school library where it serves to remind new generations of the sacrifices of their alumni.
The Michigan State Capitol in Lansing, Michigan is home to four portraits including Governor Wilber Brucker, Governor Frank Fitzgerald and Governor Frank Murphy all on display at the Gallery of the Governors on the third floor. A portrait of Governor William Comstock hangs in the Northwest House Caucus Room and can be viewed by special request.
The Michigan Supreme Court houses nine portraits of Chief Justices by Roy Gamble including the Honorable George Bushnell, Hon. Henry Butzel, Hon. Leland Carr, Hon. Bert Chandler, Hon. George Clark, Hon. Louis Fead, Hon. William Potter, Hon. Raymond Starr and Hon. Harry Toy.[61]
Spectrum Health Butterworth Hospital of Grand Rapids, Michigan has a collection of thirty-four paintings by Gamble including landscapes, self-portraits and portraits of women and children, many of which are on view at the hospital.
Gamble's Detroit Free Press Fresh Air Camp frescoes are not publicly listed however his children's mural "Mary and Her Little Lamb" smiled down upon generations of children at the Daniel Whitfield School in Sylvan Lake, Michigan from 1927 until 1991. The work has been restored via the efforts of former students from Daniel Whitfield School and The Greater West Bloomfield Historical Society. "Mary and Her Little Lamb" will soon be on display to the public at Sylvan Lake City Hall in Sylvan Lake, Michigan.
Footnotes
---