Exhibition Archive

Brenda Goodman, Untitled #8, A Song for My Mother, 1995, Gift of Christina and Chato Hill, 2010, Wayne State University Art Collection. Photos Daniel Sperry.
Brenda Goodman: Selected Works 1961-2015
November 13 - December 19, 2015
CCS Center Galleries, Detroit
A compelling overview of the work and career of CCS alumna Brenda Goodman (FA '65). Goodman's paintings explore powerfully personal narratives animated by a visual language that moves freely between abstraction and representation. This exhibition, the first multi-decade survey of Goodman's oeuvre, includes some of her most important and iconic works. 
------------------------------

Mary Ann Aitken, Untitled (Flowers 1, 4, 5), 1983-84, Gift of the artist, 2009, Wayne State University Art Collection. Photos Tim Thayer.
How to Remain Human
Curated by Megan Lykins Reich, Rose Bouthillier and Elena Harvey Collins
June 12 - September 6, 2015
At Museum of Contemporary Art Cleveland
How to Remain Human continues MOCA Cleveland's focused engagement with artists connected to Cleveland and the surrounding region, including neighboring cities in Pennsylvania and Michigan. It features emerging, mid-career, and established artists, working across a wide variety of media, who question and affirm humanness. The exhibition's title is a line from the late Ohio writer d.a. levy's "Suburban Monastery Death Poem" (1968). Ardent, aching, and raw, levy's poetry captured the struggle for freedom and expression during a tumultuous time in Cleveland's history. Among the artists in How to Remain Human, there is a shared sense of the need to make, in order to interrogate life and claim space. They explore various ways of acting in and experiencing the world, questioning how we can go on, relate, and be.
Click to visit MOCA Clevelands website for full exhibition information and additional images.
------------------------------

Carl Demeulenaere, Eve, 2006, Gift of Louis and Barbara Oligati, 2007, Wayne State University Art Collection
Carl Demeulenaere -
Labyrinth: The Circuitous Life of a Miniaturist
November 1, 2014 - January 4, 2015
Flint Institute of Arts, Flint, MI
In this reflective installation, artist Carl Demeulenaere explores the development of his art over the past 30 years. Demeulenaere designed a maze-like room that takes the viewer on a twisting and winding adventure. In the end, viewers will end up back where they started, paralleling Demeulenaere's self-proclaimed circuitous life as an artist working on a miniature scale.

With over 120 works on view, Labyrinth includes many styles and themes common in Demeulenaere's oeuvre. Highly influenced by his personal experiences, Demeulenaere's art often deals with topics of religion, sexuality, and global/cultural events.
------------------------------

Mary Ann Aitken, Untitled (Figure in Red Room), 1985-86, Gift of the artist, 2008, Wayne State University Art Collection
Another Look at Detroit
Curated by Todd Levin
June 26 - August 8, 2014, Opening Thursday, June 26, 6-8pm
At Marianne Boesky Gallery and Marlborough Chelsea, NYC.
A joint project between Marianne Boesky Gallery (509 West 24th Street) and Marlborough Chelsea (545 West 25th Street), Another Look at Detroit presents works and objects by over fifty artists, designers and cultural contributors.  The focus of this exhibition is the city of Detroit as a creative center, historically through to today.  Spanning a period of 150 years, and taking place at both galleries' Chelsea spaces, this exhibition is by no means a comprehensive survey.  Rather, Another Look at Detroit intends to portray a vision as sprawling and complex as the biography of the city itself. 
The exhibition features work by Mary Ann Aitken, Keith Aoki, James Chatelain, John Egner, Michael C. Luchs, Ann Mikolowski, Gordon Newton, Ellen Phelan and Robert Sestok, on loan from the Wayne State University Art Collection. 
------------------------------
Robert Sestok, Free Form 5, 2001, Gift of Charles Sestok III, Wayne State University Art Collection
Public Art Program - Detroit RiverFront Conservancy
Detroit RiverWalk at the Garden Rooms (just west of Rivard Plaza on the RiverWalk)
Temporary installation
Robert Sestok's Free Form 5, from the Wayne State University Art Collection, joins the work of Tyree Guyton and Sasson Soffer in the official launch of the Detroit RiverFront Conservancy's Public Art Program, in an installation along the Detroit RiverWalk.  
------------------------------
Ed Fraga, Winter Resurrection, 1988, Gift of Jay Limbaugh in memory of Frank Schwind, 2012, Wayne State University Art Collection
Marilyn: Artist as Icon
Art Department Gallery, Wayne State University
July 5 - August 9, 2013
MARILYN: Artist as Icon is a group exhibition conceived by WSU photo alumni Jon Pickell, Steve Boni, and Donita Simpson. This venue is to honor the participating artists, many of whom are alumni, and the 30 plus years of Marilyn Zimmerwoman's teaching ; as an evolving feminist forged through serving in the trenches of the culture wars, addressing identity politics, active in grassroots local activism, performance art, revolution, consciousness raising and social justice. Decades of images have been generated as she has been muse, model, and madwoman.
Participating artists include WSU faculty: Millee Tibbs, Stanley Rosenthal, David Becker (now at U of WI), Professor Emeritus Robert Wilbert; WSU Alumni: Thomas Allen, Sheri Archer, Steve Boni, Rick Bruner, Sue Carman-Vian, Topher Crowder, Bryce Denison, David Doubley, Ed Fraga, Stephanie Henderson, Peter Lenzo, Eric Mesko, Jon Pickell, Erin Robinson, Donita Simpson, Jack Summers, Alan Truhan, also Judy Eliyas, Elayne Gross, Kenneth Josephson, Cal Kowal, Marianne Letasi, Cary Loren, Erin Miller, Michael Peven, Mike Nykoruk, Jack Sal, Connie Samaras, Michael Sarnacki, Steve Sprague, Alan Teller, Robert Warhover, Allan Zinn and more.
------------------------------

Robert Sestok, Kaleidescope, c. 1974; Photograph by Ruffy Lim
Subverting Modernism: Cass Corridor Revisited, 1966-1980
Central Michigan University's Main and West Gallery, Mt. Pleasant, MI
January 10 – February, 9, 2013
Eastern Michigan University Gallery, Student Center, Ypsilanti, MI
March 11 – April 28, 2013
The art exhibition Subverting Modernism: Cass Corridor Revisited 1966–1980 is a multi-year collaboration between the Wayne State University Art Collection and Eastern Michigan University. The exhibition examines the art activity of a group of artists working in the late '60s and '70s in a rundown area of Detroit near Wayne State University. Curated by Dr. Julia R. Myers, professor of art history at Eastern Michigan University, the exhibition consists of 35 works of art (paintings, sculpture, prints and photographs), 26 of which are from the Wayne State University Art Collection.
Subverting Modernism is on view at Central Michigan University's Main and West Gallery, January 10 – February 9, 2013. Its opening reception, with gallery talk by exhibition curator, Dr. Julia R. Myers, is Thursday, January 10, 4–6 p.m. The exhibition then travels to the Eastern Michigan University Gallery, Student Center, March 11 – April 28, 2013. The opening reception at EMU is March 20, 4–7 p.m. On March 20, at 6:30 p.m., Vince Carducci, dean of Detroit's College for Creative Studies, will deliver an address titled Envisioning Real Utopias in Detroit in the EMU Student Center, Rm. 310 A&B. On March 27 at 5:30 p.m., the movie "Images" from Detroit's Cass Corridor, created by Kathryn Brackett Luchs and Shaun Bangert, will be screened in EMU's Halle Library Auditorium. This outstanding film includes original footage taken of the Cass Corridor artists in their studios during the time covered by the exhibition.
In the late 1960s, revolution was in the air in Detroit, with radical leftist activity focused in the Cass Corridor. Feeling the revolutionary spirit, local artists also broke with tradition by overthrowing Modernism, the dominant New York art critical theory of the post-WWII era, and ushering in the Post-Modernism pluralism seen throughout American art in the 1970s.
While early pieces in the exhibition push hard at the boundaries of Modernism/Minimalism, other works break forth from these limitations to create meanings of great universality, such as our need for shelter or the persistence of the life force, both human and otherwise. Many of the works speak of Detroit, both in its industrial and post-industrial stages, but they also encompass and transcend the specifics of time and place and address issues that have significance for all humans, such as violence and vulnerability, the presence or absence of order and structure in nature and human life, and our millennial old desire to make music and dance.

The exhibition and accompanying 100-page catalogue published by Eastern Michigan University Gallery and distributed by Wayne State University Press, allows art lovers to see important Detroit art that is not usually accessible to the public. Dr. Julia R. Myers's extensive research, which included interviewing the artists, consulting hundreds of newspaper articles from the late 1960s and 1970s, and using archival materials in both Washington, D.C., and Detroit, makes for a thoroughly new look at the exciting work of these important Detroit artists. This flourishing of artistic expression in a city not historically viewed as an 'art center' should be recognized, valued and prized, as this exhibition does.
------------------------------

Gordon Newton, Untitled (Cement Block), 1976; Photograph by Christopher Campbell
Shannon Goff, Ryan McLaughlin, Gordon Newton
Susanne Hilberry Gallery, Ferndale, MI
Sept 29 - Nov 3, 2012
This exhibiton of new work by Shannon Goff, Ryan McLaughlin and Gordon Newton also features four older Newton works from the Wayne State University Art Collection -- his iconic Diamond Follow, 1975; Untitled (Cement Block), 1976; The Stimph, 1986; and Untitled, 1975, a never-before exhibited wood construction.
------------------------------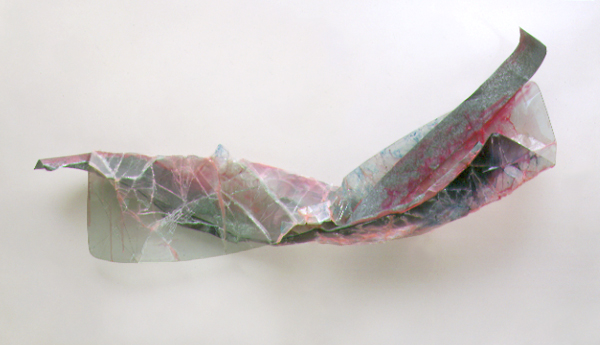 Paul Webster, Odalisque, 1989; Photograph by Dirk Bakker
Ménage à Detroit: Three Generations of Expressionist Art in Detroit 1970 - 2012
Selected by Dennis Nawrocki
N'Namdi Center for Contemporary Art, Detroit, MI
April 27 - July 21, 2012
"Ménage à Detroit" presents three generations of artists for whom an expressionist aesthetic has been either foundational or ongoing through their careers.  Whether executing painterly canvases, three-dimensional sculptures, or some combination of both paint and structure assembled from virgin or salvaged materials, the twenty-two artist featured here share an approach to their work marked by a strong emotional quotient.  Not for these expressive practitioners the formalities of the grid or a less-is-more sensibility.  Rather, more is more -- and better!
Featured in this multigenerational survey are three works from the Wayne State University Art Collection -- an untitled Michael Luchs rabbit sculpture, made of wire, steel rod, carpet, and paint, c. 1977; Gordon Newton's monumental, never-before publically exhibited assemblage, Oliver Twist, from 1992; and Paul Webster's Odalisque, 1989.
------------------------------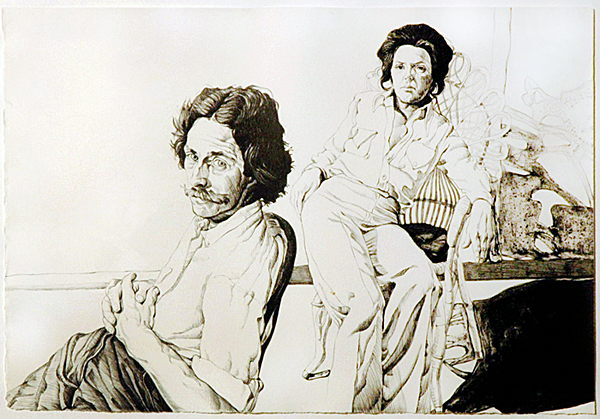 Patricia A. Qiunlan, Self Portrait with Gordon McLelland, c. 1970; Photograph by Daniel Spery
Detroit Artists Market: The First 80 Years
Detroit Artists Market - Detroit Historical Museum, Detroit, MI
February 12 - May 24, 2012
As part of the celebration of their 80th Anniversary, the Detroit   Artists Market presents a special exhibition focused on their extensive   history and unfailing support of local arts.  Detroit Artists Market:  The First 80 Years will be shown in the Community Gallery at the Detroit Historical Museum from February 24 through May 24, 2012.
The exhibition features many artist from the WSU Art Collection including Patricia A. Quinlan, Jame Calder, Peter Gilleran, John Parker Glick, William Lewis, David A. Mitchell, William Pitney, Robert Sestok, Emil, Weddige, and Robert Wilbert.  Choosen to represent the DAM's extensive and distinguished history, each piece uniquely depicts the range and impact that the DAM has had on the arts community in Detroit.
-------------------------------------

Image: Gordon Newton, Wheel of Fortune, 1976; Photograph by Daniel Sperry, Courtesy of WSU Art Collection
No Object is an Island: New Dialogues with the Cranbrook Collection
Cranbrook Art Museum - Cranbrook Art Academy, Bloomfield Hills, MI, November 11, 2011 - March 25, 2012
No Object is an Island: New Dialogues with the Cranbrook Collection is the provocative exhibition that reopened the expanded and renovated Cranbrook Art Museum at Cranbrook Academy of Art on November 11, 2011. Inside and around the landmark building, designed by renowned Finnish architect Eliel Saarinen, the exhibition paired the work of 50 leading contemporary artists and designers with an equal number of objects from Cranbrook's outstanding permanent collection of 20th- and 21st-century art and design. Visitors discovered a Nick Cave Soundsuit side-by-side with a tapestry by Arts and Crafts master May Morris. A conceptual partnership that Maarten Baas projects between himself and Marc Newson met a very real early collaboration of Eero Saarinen and Charles Eames. And Whitney Biennalist Tony Mattelli's hyperrealist sculpture, The Hunter, faced off with one of fellow sculptor Kate Clark's ravishing taxidermy beasts with a human face.
Cranbrook's exhibition featured Gordon Newton's mixed media sculpture, Wheel of Fortune, in dialogue with 70s era art by Edward Fella.  Newton's sculpture can regularly be seen in the Cass Corridor Culture: In and Around Wayne State, 1960s - 1980s exhibition on the Third Floor of the David Adamany Undergraduate Library on Gullen Mall.
-------------------------------------

Left to right: David McCosh, Girl Sewing, 1931; The Foreman, 1932; Photographed by Tim Thayer; Courtesy of WSU Art Collection
The Making of David McCosh: Early Paintings, Drawings, and Prints
Jordan Schnitzer Museum of Art – University of Oregon, Eugene, July 23 – September 4, 2011
 
Opening Reception, Friday July 22, 6:00 – 8:00 p.m.
 
David McCosh (1903-1981) is recognized as one of the Pacific Northwest region's most important artists of the twentieth century due to his remarkable works that documented personal experiments in observation, his three and a half decades as faculty at the University of Oregon, and his continued influence on many of Oregon's most talented contemporary painters. However, before he reached this level of success, the Iowa-born McCosh was a struggling artist trying to make a living during the Great Depression in Chicago and New York and at Grant Wood's Stone City artist colony. His training at the prestigious School of the Art Institute of Chicago was a valuable asset in an artistic environment that raised questions of academicism, modernism, and regionalism among Midwestern artists. McCosh's paintings, prints, sketchbooks, and letters from this period illustrate his transition from student to teacher as well as his dual development as a painter and a lithographer. This exhibition, curated by Danielle Knapp, the JSMA's McCosh Fellow Curator, offers a never-before-seen glimpse at the beginning career of one of Oregon's most distinctive and influential artists. Made possible by the David and Anne Kutka McCosh Memorial Endowment.
 
For more information contact:  http://jsma.uoregon.edu
-------------------------------------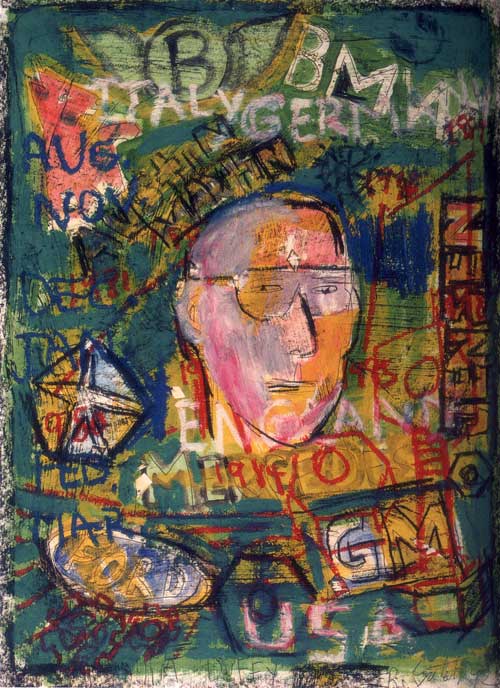 Robert Sestok, Portait of James Duffy, 1977
Patron of the Arts: Gifts from James Pearson Duffy to the Wayne State University Art Collection
The Detroit Athletic Club
24 September, 2010 - 5 January, 2011
The Detroit Athletic Club is proud to present a selection of works from the collection of long-time DAC member, and noted donor to the University Art Collection, James Pearson Duffy.  The works selected for the exhibition reflect Duffy's eclectic taste and showcase many works from the Cass Corridor enjoying their first showing in a gallery setting.  Special arrangements can be made to view this exhibit by appointment only.  To arrange a viewing of Patron of the Arts please contact the Detroit Athletic Club at (313) 963-9200.
-------------------------------------
Arthur Danto's Woodblock Prints: Capturing Art and Philosophy

Arthur C. Danto, Dead Man, Black Bird, 1961
The University Museum, Southern Illinois University, Carbondale, August 24 - October 1, 2010
The Graduate students in Philosophy at Southern Illinois University at Carbondale have collaborated with Arthur Danto to conceptualize a unique exhibition/dialogue between art and philosophy. Opening August 24th and showing through October 1st, 2010, Arthur Danto's Woodblock Prints: Capturing Art and Philosophy, includes 27 woodblock prints and six original woodblocks made by Danto in the early 1960s and gifted by the artist in 2010 to his alma mater, Wayne State University, Detroit. The exhibition will feature wall texts by graduate students that engage directly with the work. Documenting the re-presentation of the prints as well as their contextualization, the exhibition catalog includes a never before published essay by Danto and comments by Professor Randall E. Auxier, editor of The Philosophy of Arthur C. Danto, forthcoming volume number thirty-three in 'The Library of Living Philosophers,' published by Open Court.
Danto worked as an artist in the early sixties before becoming a prominent philosopher and Johnsonian Professor Emeritus at Columbia University. His work survives with the spirit of those times intact as well as an aesthetic richness that resonates with contemporary urgency.
-------------------------------------
William Gropper and More: Dissent and Satire
Elaine L. Jacob Gallery, May 14 - June 25, 2010
On view at the Elaine L. Jacob Gallery from May 14, through June 25, 2010, William Gropper and More: Dissent and Satire included 35 prints from the Wayne State University Art Collection by American Social Realist, William Gropper.
William Gropper (1897 – 1977) was born on the lower east side of New York where he and his working-class Jewish family labored in the sweatshops of the garment industry. Gropper attended night classes at the avant-garde Ferrer School where he studied under George Bellows and Robert Henri and became associated with the Ash-Can Group of Social Realist artists. Throughout his life Gropper used his cartoons, paintings, magazine and newspaper illustrations, prints and murals to portray the everyday realities of social injustice. During the Great Depression, he worked in the WPA's Federal Arts Project. His remarkable Automotive Mural (1941), painted for the main Detroit Post Office was placed on permanent loan in 1971 by the Smithsonian Institution to Wayne State University where it is installed in the Student Center 2nd floor lounge.
 

William Gropper, Automotive Mural, 1941
Gropper's appearance before Senator Joseph McCarthy's Subcommittee on Investigations in May 1953 and his subsequent blacklisting led to the Capriccios, a series of 50 lithographs inspired by this experience and by the dynamic series, Los Caprichos, created by Francisco de Goya in 1797/98. In Gropper's emotionally impactful Capriccios , he expressed his own disdain for a political system that gave rise to the injustices of 'McCarthyism' and chronicled the sins, follies and foolishness of society.

In 1967 William Gropper was invited to become an artist at the Tamarind Lithography workshop. It is there, working with master printmakers that he created many color lithographs, including the Watergate Series. In these 10 images, Gropper uses his sharp wit and flamboyant colors to respond to the political sideshow of the Senate Watergate Hearings of 1973.

In a 1960 interview Gropper stated, "I am interested in mankind. People create the "landscape" in my paintings. I fight wrongs. I fight in a creative sense."

To learn more about William Gropper visit www.gropper.com
-------------------------------------

Works by Peter Gilleran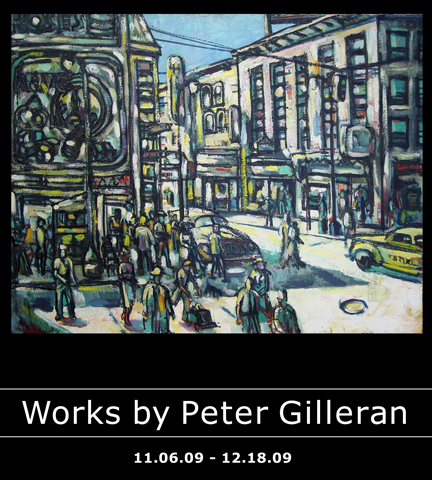 Art Department Gallery, November 6 - December 18, 2009
This exhibition, which ran from November 6 to December 18, 2009,  featured approximately 35 paintings and drawings by Peter J. Gilleran (1921 - 2007) an art professor at Wayne State University from 1954 until his retirement in 1989.
Gilleran attended Cass Tech High School (1939) in Detroit, received his BA (1948) from the
Colorado College in Colorado Springs and earned his MFA (1950) from Cranbrook Academy of
Art, where he studied with Zoltan Sepeshy and taught for nearly a decade. During World War II,
Gilleran served in the Army Signal Corps as a draftsman while being stationed in India and
China.

The influential teacher and prolific artist participated in one of the first Ann Arbor Art Fairs and
was the official portrait artist in its fourth year. Gilleran exhibited up until the time of his death,
with one-person shows at the Scarab Club, the Birmingham Bloomfield Art Center, West
Virginia State College and the Detroit Artists Market. Throughout his career, Gilleran received a
number of prestigious awards, including a Louis Comfort Tiffany Foundation fellowship.

Gilleran's work illustrates his deep exploration of a wide variety of modern artistic styles,
including Cubism, Pointillism, Abstract Expressionism and Fauvism, which he synthesized and
used often to depict local subject matter. There is an energy created through Gilleran's unique
color palette and adept draftsmanship, and a deep empathy in his sensitive portrayal of his
subjects.



Peter Gilleran, Still Life with Three Figures, 1989


Witty and optimistic, Gilleran's passion for art was the driving force behind his talent and love for
teaching. Richard Bilaitis, professor emeritus and former chair of WSU's James Pearson Duffy
Department of Art and Art History has said of this practice, "He lived, ate and slept painting and drawing and
inspired many students to choose careers in the field."

"His artwork and teaching were a continual source of enjoyment, satisfaction and pride; it was
his life," Gilleran's wife, Anne Crow Gilleran said. Two of his children followed in their father's
footsteps. Daughter Breon Gilleran is a sculptor and an assistant professor of art at Goucher
College in Towson, Maryland, while son Peter Gilleran is a painter and has taught high school
art in the Detroit Public School system.
-------------------------------------
Figuration and Gestural Abstraction: Prints of Arthur C. Danto

Arthur C. Danto, Head, 1958
University of Illinois Springfield Visual Arts Gallery, August 27 - September 23, 2009

Before turning to philosophy, Arthur C. Danto, one of the foremost contemporary philosophers of art and art critics, was making works of art. He created black-and-white woodcuts that reflected both the strength and intensity of gouging and cutting and the spontaneity and fluidity of gestural drawing. Danto's mature style embraced two different movements of expressionism – the tradition of rough and coarse German Expressionist woodcuts and the impulsive and energetic brushstrokes of Abstract Expressionist paintings. Whereas artists such as Seong Moy, Louis Shanker, and Adja Yunker, inspired by Cubism and Abstract Expressionism, famously experimented with color woodcuts, Danto affirmed his loyalty to the tradition of black-and-white prints. He declared, "I prefer the black-and-white woodcut. It permits the directest statement with the greatest economy of means."

His last one-man show took place in New York in 1960 at the Gallery of Associated American Artists. In 2000, Sylvan Cole, who had been Danto's art dealer in the fifties, and had been called "a doyen of dealers in American prints" by The New York Times, was interviewed by the art historian and critic Avis Berman. Cole really surprised his interviewer, when he mentioned Danto's prints. Since the publication of his book The Transfiguration of the Commonplace, Danto's philosophy of art has been widely known and discussed, but his art has been buried in the past, in galleries, museums, and private collections, only occasionally emerging here and there. Not surprisingly, few people know that Arthur Danto was once an artist and even fewer have had the privilege to see his art.

- Dr. Ewa Bogusz-Boltuc, Assistant Professor of Philosophy, University of Illinois Springfield
-------------------------------------
Time and Place: Art of Detroit's Cass Corridor from the Wayne State University Collection


James Chatelain, Untitled, 1975
Elaine L. Jacob Gallery, April 24th - June 26th 2009
This exhibition featured works recently gifted by generous donors to the Wayne State University
Collection, and honored the substantial gifts by noted Detroit collector and
philanthropist James Pearson Duffy.

With over sixty works, most of which were created between 1960 and 1980, this
exhibition illustrated the energetic and bold work done by a group of young
artists, many of whom studied art at Wayne State University, and who were living
and working in the Cultural Center area of Detroit. It was a time of struggle and
radical change in societal thinking and behavior, and one of an increased decline in
the prosperity and viability of Detroit. The outlook, and limited financial
resources, of the artists of the Cass Corridor often led to their employment of
used and discarded materials, automatic and irreverent techniques, rough and
tumble forms, and tense abstractions. Yet there is a sense of grit and survival that
characterizes many of these works -- the same "bad ass" attitude on which
Detroit, its residents, and its artists, pride themselves to this very day.

Artists represented in Time and Place include: Keith Aoki, Victor Belisle, Jim
Chatelain, Charles Cobb, James Crawford, Stanley Dolega, John Egner, George
Ettl, Steve Foust, Brenda Goodman, Doug James, Bradley Jones, Aris Koutroulis,
Michael Luchs, Ann Mikolowski, Nancy Mitchnick, Greg Murphy, Gordon
Newton, Ellen Phelan, John Piet, Nancy Pletos, Paul Schwarz, Robert Sestok, and
Carol Steen.
-------------------------------------
CONSIDERING DETROIT

Gordon Newton, Diamond Follow, 1975, Photograph by Dirk Bakker
 Museum of Contemporary Art Detroit, May 10 - July 28, 2008
Running from May 10 to July 28, 2008 this was the first exhibition in a series that MOCAD launched to explore contemporary art in the Detroit area. Four of Gordon Newton's works, Diamond Follow (pictured above), Untitled (Swordfish) and Gold I and II (pictured below, respectively) were loaned to the museum for this exhibition which also featured works by Ellen Cantor, Maurice Greenia Jr. (Maugre), Jim Gustafson, Allie McGhee, Heather McGill, and the artist collective TIME STEREO.



Gordon Newton, Untitled (Swordfish), 1983/84, Photograph by Dirk Bakker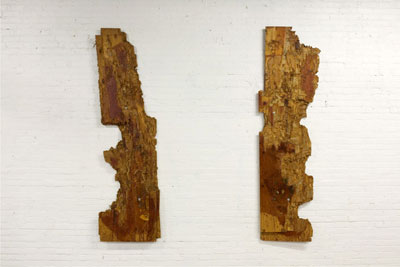 Gordon Newton, Gold 1 & 2, 1974

In addition to both loaned works from the Collection, Newton also created a site-specific installation that acted as a temporary enclosure to the museum's entrance for the duration of the exhibition.  The structure, made entirely out of unfinished wood sheeting and other raw building materials, presented a unique architectural outlet for the artist as well as an intervention to the museum's frequently evolving facade.



Gordon Newton, 2008
Photographs by Corine Vermeulen